"the La Jolla Razor House Is a One-of-a-kind Architectural Masterpiece Located in La Jolla, California, Seated Cliffside Amongst California's Torrey Pines State Park Located at 9826 La Jolla Farms Road, La Jolla, Ca, 92037."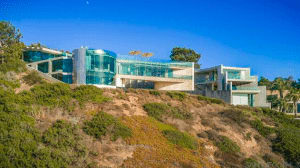 Disclaimer: The La Jolla Razor house was not listed or sold by Tiffany Torgan and Co. Congratulations to all parties involved in the sale of this insanely gorgeous La Jolla Home! This Iconic Modern Estate was designed by Wallace E. Cunningham, noted by Architectural Digest as one of the top 100 Designers and built-in 2007.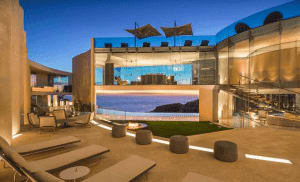 La Jolla Razor House
This unique state of the art home just sold in La Jolla Farms for twenty million eight hundred thousand dollars and was re-listed off-market on April 15th, 2019 at twenty-four million nine hundred ninety-five thousand dollars, reduced from thirty million, where it previously sat on the market for two hundred fifty-five days prior. The La Jolla Razor House was named after Razor Point Trail in Torrey Pines and originally listed at thirty million dollars.
The name for the La Jolla "Razor House" may seem like it's because of it's modern, chic and sharp design, however, it is named after the Razor Point Trail because its views and surroundings look like that of the Razor Point Trail in Torrey Pines State Reserve. You can feel the serenity of nature and landscape, which almost looks like a fake backdrop against the timeless, yet the modern and luxurious architecture of The Razor House.

The home sits on a Bluff in Torrey Pines State Park. The juxtaposition of the desert-like terrain with sand, cactus, but also mature Torrey Pine trees against the deep blue ocean is truly captivating. As if that isn't enough of sensory overload, imagine adding the beautiful Razor House against that scene. This home paired with its backdrop will leave you speechless. The Razor House is nothing short of that. The panoramic sweeping views that The La Jolla Razor house offers paired with the design of the home makes you feel like you are walking on a dream. It has a similar air as the Salk Institute, which is located just around the corner and will make you feel as if you stepped into another world and into a Salvador Dali painting. The architecture, walkways, staircases, glasswork, tile, stone and pieces of the home look more like sculptures than a piece of a home, and that is exactly what Cunningham intended.

Features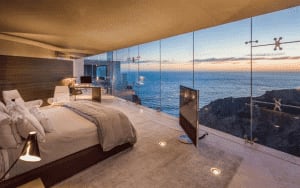 This home encompasses almost twelve thousand square feet (11,954) of total conditioned space (measured to the outside of the walls) and its lot size is roughly thirty-three thousand five hundred forty-one square feet. four stories with an elevator to get you two and fro, two master suites with showers, freestanding tubs, and wardrobes, separate access from primary to secondary master suites and the second master suite include an exercise room.

The home features heat, air conditioning, two fireplaces with one in the master and one in the living room, and a fire pit outside.


In total, there are six bedrooms and six bathrooms with two half-baths, family room, library, main kitchen, service kitchen, one thousand three hundred and one square foot detached guest bed and bath with a separate carport and entry-level.

Family Room
The family room comes with a custom Shagreen Liquor Cabinet, Custom Shagreen bar which is movable, three conditioned wine cabinets, an eighty-five inch" UHD TV. The library includes a glass and stainless steel pool table.

Kitchen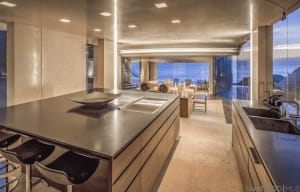 The main kitchen includes a Gaggenau cooktop, Miele dishwasher, Sub-Zero Refridgerator/Freezer, and Hoshizaki ice maker. The Service kitchen which is great for hosting parties and prepping for an event. You can hire a whole catering team to cook in the prep kitchen as it has four Gaggenau ovens, Gaggenau inductions cooktops and electric grill, Miele dishwasher, sub-zero refrigerator/freezer, full laundry room with two LG washers, dryers and Miele rotary iron, computer room housing all integration and automation systems.


Screening room with acoustically treated walls/ceiling, tiered floors, Stewart curved multi-aspect ratio screen, high definition digital projector, two steam rooms/showers, Vola, Boffi, Duravit and Kohler plumbing fixtures. Finishes included Travertine stone floors from the interior to exterior, solid walnut flooring the library and family room ceiling, quarter-sawn stained walnut veneer cabinetry and accent walls. Suede wrapped walls at the primary master suite. VetroStone engineered stone surfaces (countertops, integral sinks, and accent walls)
Structure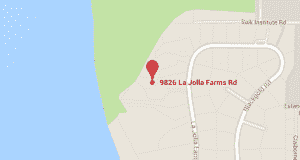 The structure of this home as a whole contains a gated driveway shared with two other residences, floor to ceiling frameless glass throughout, ocean views from almost every living space, and cast-in-place exterior.


Bonus Features
The views at the La Jolla Razor house are only rivaled by the birds who live in Torrey Pines State Reserves. Aside from the stunning and mesmerizing architecture, the location of this home in the coveted La Jolla Farms is what makes it such a work of art. This home has stunning outdoor terraces, a rooftop deck with outdoor kitchen, below ground heated infinity pool and movie theatre and a five-car garage. Here, you are close to Torrey Pines Golf Course, Del Mar Racetrack and the La Jolla Playhouse. This home has actually been a subject filming location and has been featured in commercials and magazines.

La Jolla Razor House: Closing the Sale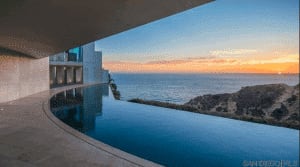 The La Jolla Razor House was bought by someone who we all know and love, Alicia Keys! The Grammy-winning singer and her husband, hip hop producer Swizz Beatz are the new owners of The Razor House. Josh Altman, power agent, whom many people know from Million Dollar Listing Los Angeles and his team double ended this deal. His agent Stephen Sweeny represented the buyer! This is the biggest deal closed this year in La Jolla.
​​​​​​​

"Big, big, big celebration day!" Josh announced in an Instagram video. "Why? Because the Altman Brothers just closed the most expensive sale this year in La Jolla, just north of San Diego."


"I feel great, learned from the best!" Sweeney told him. "The number one thing I would say in regards to this deal is do whatever it takes to close. That's what I had to do, that's what we had to do as a team and that's exactly what made this deal happen, for sure."