Bird Rock is a flat area located between Pacific Beach and the Upper Hermosa/Lower Hermosa neighborhood of La Jolla and is located on the southwest end of La Jolla. On the south side, Bird Rock starts at Agate Street and Wrelton Drive and extends to Camino De La Costa running north and south. On the west side of Bird Rock, you will find the beautiful Pacific Ocean and the coast lined with beautiful oceanfront homes! The eastern border of Bird Rock is considered Linda Rosa Avenue and borders the Muirlands Neighborhood. Bird Rock Real Estate is made up of many different style homes, however, a characteristic they all share is their beachy Southern California charm.


Bird Rock is most characteristically recognized by it's charming and walkable neighborhood feel. Entering Bird Rock from La Jolla Boulevard which is kind of like the "main drag" if you will, you will go through a couple of European-like roundabouts which were built a little over ten years ago to slow traffic and encourage pedestrians and walkability in the neighborhood. Here, you will find brunch spots, coffee shops, pet stores, fitness centers, an Italian restaurant, nail salons, a bank, women's boutique clothing stores and lots of other fun stuff!


The Residents of Bird Rock can always be seen out and about being active and enjoying the beautiful weather and ocean centric lifestyle. Weekend mornings you will see many people walking or jogging the streets with their dogs, families, stopping for brunch or a coffee, browsing the local shops, swimming, going to and fro pilates and yoga classes, taking walks along the coast, enjoying the beautiful ocean views from the many little parks or lookout points that Bird Rock has to offer such as Bird Rock Park, Calumet Park, La Jolla Hermosa Park, Bird Rock (the surf spot) and more, surfing, as Bird Rock is home to some of the best surf spots in San Diego.


Bird Rock Real Estate is some of the most coveted real estate in all of San Diego, and even all of La Jolla. Bird Rock Real Estate isn't necessarily categorized by a specific type of home, as there are many different types all throughout the neighborhood but is very family-oriented and active. One of the reasons it is a great family community is because it is home to Bird Rock Elementary, one of the top-rated elementary schools in San Diego, if not, the state. Children who grow up in Bird Rock will attend Bird Rock Elementary, Muirlands Middle School and La Jolla High, and can easily bike or walk to school!


The community hosts many events throughout the year and even has a Bird Rock Community Council. Every year they put fourth of July Parade, ending with a neighborhood block party. Every January there is also a community picnic and "Bird Rock Home Tour". Bird Rock is also a top trick or treating destination for San Diego Families because it is such a beautiful and welcoming community. Bird Rock is one of those neighborhoods where people know to drive slowly because they will find kids at play!


Bird Rock Real Estate is made up of up mostly single-family homes, the only condos you will find here for sale are in the Seahaus complex. Seahaus is a beautiful luxury complex that was built in 2015 and is conveniently located on 5410-5490 La Jolla Blvd.


Seahaus features a spa and swimming pool, fitness room, and clubhouse, all of which are included in your homeowner's association dues. HOA monthly dues as of September 25th, 2019 are roughly $580-$625 a month and there are currently eight listings for sale in Seahaus. There are 120 units across 12 different buildings and each building has 3 stories and an elevator. Some units have ocean views, some do not. Most units are 2 beds although there are some studios and some 2 bedrooms with an optional 3rd  or office space. Inside and outside the condos are light, bright, spacious and well maintained. Pricing ranges from about $750,000- $1,600,000.


There are currently twenty-two homes listed on the San Diego MLS in Bird Rock. The types of single-family homes you will find in Bird Rock are mainly made up of medium-sized single level beach cottages with yards, however, you can find all different types as many homeowners have remodeled them to fit their families taste and needs. The oceanfront homes in Bird Rock which you will find on Sea Ridge Lane, Calumet Ave, Ricardo Pl, San Colla St, Dolphin and Chelsea Place are of course, more grandiose and luxurious. Single Family homes in Bird Rock range from about $1,500,000 to 10 million.
​​​​​​​

Bird Rock Real Estate For Sale
Here is a look at some of the beautiful homes that are currently for sale in Bird Rock. This three bed, one bath single-family home on
Midway Street is listed by Maxine Gellens from Berkshire Hathaway. This home was built in 1949 but has been refreshed with interior and exterior paint, an updated kitchen with new counters and floors and refinished hardwood flooring. Situated on a double corner lot, this home has a large wraparound yard perfect for entertaining and is listed at $1,495,000. Call or text Tiffany at (858)-504-8433 for a private showing.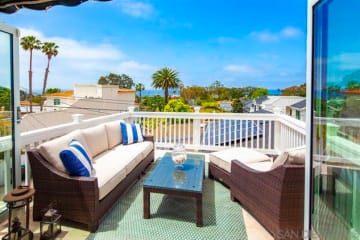 This 5 bed, 4 bath, 2,500 SF Cape Cod style home on 5418 Linda Rosa Ave was built in 1985 boasts an open floor plan with vaulted ceilings in the family room and all bedrooms, stainless steel appliances and upstairs master suite upstairs with huge closet, lounge area with wet bar and private deck with ocean views! This home is listed by Eugenia Garcia with Harcourts Prestige Properties. Call or text Tiffany at (858)-504-8433 for a private showing.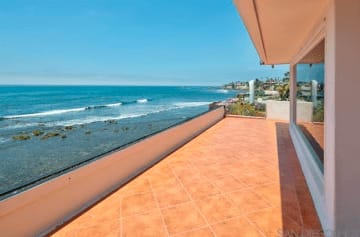 This gorgeous 4 bed, 4 bath, $3,999 oceanfront Medeterraininan beauty located at 5366 Calumet Ave was built in 1985 and offers expansive oceanfront views from an extra-large deck and almost every room in the house. A private courtyard at entry and refreshing ocean breezes throughout this house make it truly a slice of heaven! This home is listed by Lisa Pacheco with Harcourts Prime Properties. Call or text Tiffany at (858)-504-8433 for a private showing.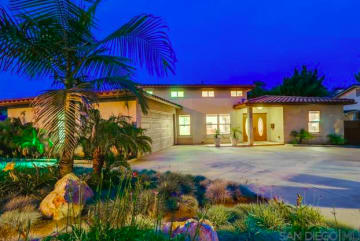 This 6 bed, 4.5 bath, 2,840 SF single level family home located at 5250 La Jolla Blvd was built in 2010 and will welcome you in with a gorgeous tropical yet drought-friendly landscape, high ceilings, large backyard deck, and open living spaces, just steps to the beach! This home is listed by Greg Whitney with Billionaires Row. Call or text Tiffany at (858)-504-8433 for a private showing.