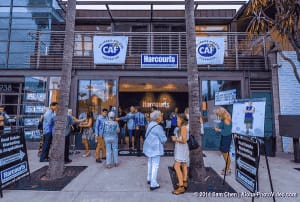 Barcourts at Harcourts is a charity event located at Harcourts Prestige Properties in the heart of La Jolla Village at 7938 Ivanhoe #1. We created this event to utilize our wonderful office space which creates the perfect, interactive environment to bring people together for a great cause. Barcourts at Harcourts has benefitted some amazing organizations around San Diego such as the Epilepsy Foundation, A Bridge for Kids, which is a nonprofit.

​​​​​​​dedicated to raising and distributing funds to underprivileged teens in need, through a child sponsorship program.


​​​​​​​Canine Companions for Independence, which is a non-profit that has provided over five thousand service dogs to people with disabilities, Rady Children's Hospital, and more.


Another great thing about Barcourts is that we allow other companies to co-sponsor the events with us. Barcourts also supports our neighbor's businesses, which are real people we personally and professionally, as a real estate brokerage give our business to.​​​​​​​

​​​​​​​There will be a raffle with prizes donated by our community where you will find everything from dinners for two, salon services, and more! You can't go.
​​​​​​​
wrong with food, music, cocktails, supporting charities, and the great company you will find at Barcourts! Mark your calendars for Thursday, March 21st for the first Barcourts at Harcourts of 2019.
​​​​​​​

All proceeds will go to 
Rady Children's Hospital
auxiliary unit. The Rady Children's Hospital La Jolla Auxilary Unit is proud to support the new Rady Children's Hospital Copely Psychiatric Emergency Department slated to open in 2020. Recognizing that early intervention can save lives and support families at the most critical point in a mental health crisis, the planned Copley Psychiatric Emergency Department will serve the unique needs of patients requiring immediate and long-term care for mental and behavioral health challenges.
Nationally, twelve teens die each day as a result of self-harm, and suicide is the third leading cause of death among people age ten to twenty-four in the United States. Surprisingly, teens in San Diego suffer the highest rate of suicide in the state, and we are here to help combat this local issue. Thank you to our sponsor's Jewels with a Purchase, Cornerstone Mortgage, and Wheat and Water who will be catering this event! Check out the video below for a sneak peek of a night at Barcourts AT Harcourts!