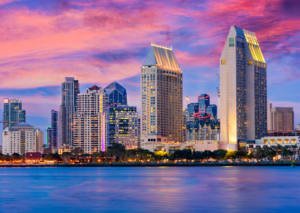 Regardless of your current location, we all know this year's holiday season may look a little different because of the ongoing COVID-19 pandemic. If you're considering a longer vacation on the coast of California this year, or if you're a lucky year-round resident of San Diego, we have a few ideas for you to celebrate the season safely.
If you're not familiar with San Diego, the city is home to so many vibrant and unique neighborhoods. Between South Bay, , and Southeast San Diego, there is a neighborhood and a community to fit any lifestyle you're seeking – be it a permanent move or a temporary change of scenery.

Sights and Scenery around San Diego

Speaking of scenery – there's much to see (and safely!) do around San Diego, even amid a pandemic. The is a world-renowned experience in the heart of the city. The zoo is a safe option to socially distance while still enjoying the outdoor activities and taking advantage of the wonderful weather San Diego has to offer. San Diego's zoo is an incredible experience, but it's only one of 300 parks in the city – so there is plenty to see and do – safely – in San Diego.

If you're more in the holiday spirit and you want to celebrate the season with others, San Diego will deliver the magic you're looking for amidst the sunny, warm temperatures and cool Pacific Ocean breezes. For two weekends in December, you can catch the Bay Parade of Lights, an outdoor activity that will highlight dozens of boats adorned with holiday cheer. There are also plenty of community events, festivals, and markets that are currently scheduled for the season, too.

Staying in and Cozy

If you would prefer to stay in – and stay cozy – this holiday season, there are so many beautiful options to rent (or relocate to!) in San Diego. Whether you choose to stay in Coastal San Diego, and take advantage of the warmth and the sun, or if you prefer to be closer into the city in Central San Diego, there are plenty of options that will make a cozy abode for the season.

But, if it's a beautiful night, you can still take your cozy night in outdoors! San Diego homes offer incredible indoor-outdoor living that makes your space fluid and open. Make your perfect night-in all the better with and stream your favorite holiday movies or shows anywhere in the house, even outside. Take your dinner and your drinks al-fresco to watch the sunset before your movie night starts. To make the season even more special, you can build a hot chocolate bar complete with marshmallows, candies, and peppermints.

It will without a doubt be an incredibly different holiday season for all of us, but you can keep the magic of the season alive in San Diego. The diversely rich communities that create the fabric of San Diego are excited to host safe, outdoor options. And, there is no prettier place to celebrate with a cozy night in than the homes in San Diego.