La Jolla Neighborhoods
La Jolla, the Jewel, a beautiful picturesque community of San Diego that sits out on a point overlooking the Pacific. It's no wonder that La Jolla boasts some of the best surfing, shops and restaurants, and of course, real estate. After selling real estate in La Jolla neighborhoods for more than two decades, I've learned quite about the nuances within each one. Here is my list of the top 10 neighborhoods in La Jolla.

1. Birdrock

Named after a bird-shaped rock just off the shoreline, the neighborhood of is one of the few residential and business mixed areas of La Jolla. Separated by La Jolla blvd which runs north and south, the neighborhood of Birdrock is home to some of La Jolla's fun local restaurants such and Wheat and Water, Birdrock Coffee Roasters, and Beaumonts. Birdrock real estate can range from homes starting around $1.5mil and reaching as much as $20 million or more with a few condominiums that sit on the La Jolla blvd business district. The price will always depend on the proximity to the saltwater!

2. Beach Barber Tract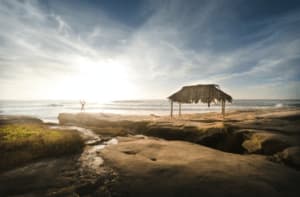 WindanSea Beach
Here you'll find the iconic beach with its rocky coastline, world-class surfing, and, of course, "the Shack", a palm-covered hut that was originally constructed in 1947 and over the years has been distinguished as one of La Jolla's landmarks. Lots and zoning in this area are a little denser as you will find both multi-unit complexes as well as single-family residents. After a long day in the sun, you can find good eats at The Shack bar and grill or Nautilus Tavern which is within walking distance from the beach.
3. Lower Hermosa

is sandwiched between both Birdrock and the Beach Barber Tract and sits on the west side of La Jolla Blvd. The main road through this neighborhood is Camino De La Costa also known as "the street of dreams". Real estate on the street of dreams is some of the most sought after in all of Southern California. With spectacular views and plenty of private ocean frontage, homes here can demand an exorbitant $3,000-5,000/sqft.

4. The Village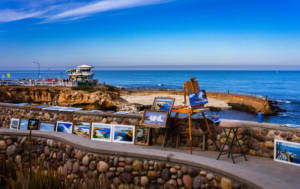 The Children's Pool
The Village of La Jolla is essentially what you would refer to as downtown La Jolla. It stretches from just south of Pearl St all the way to Coast Blvd. is La Jolla's most vibrant neighborhood, where you will find the majority of La Jolla's boutique shopping, 5-star dining, coastal walks, and in general, social gatherings. Here you can find popular destinations such as Goerges by the Cove, La Valencia Hotel, The Cove/Children's Pool, El Pescador, Eddie V's. and so much more.
5. Country Club

​​​​​​​The Country Club neighborhood of La Jolla sits just east of the La Jolla Country Club golf course, an exclusive membership only pristine 18 hole track that has views from nearly every hole. As you drive through the neighborhood you'll see some of the most expansive custom homes anywhere in La Jolla. It is not uncommon for these homes to have larger lot sizes compared to the rest of the La Jolla areas. Homes here start at $2 million and only go up!

6. Muirlands

Right smack in the middle of La Jolla and Mt Soledad, you have the Muirlands. Similar to the Country Club, the Muirlands offers expansive homes sitting on larger lots. Due to the typography of this neighborhood, many of the homes have full 270 panoramic views of La Jolla and the Pacific Ocean. This neighborhood also includes La Jolla's public middle school, Muirlands, and highschool, La Jolla High, just east of La Jolla Blvd.

8. La Jolla Shores

Another beachfront neighborhood that La Jolla offers, , sitting at the bottom of the north side of Mt Soledad, is the only somewhat flat area you can find in the zip code. This lends its homeowners and guests to enjoy a higher walkability score than most other neighborhoods. Along Avenida De La Playa, you'll find the Shores' business district, which includes some beachy gift shops and rental spots, and excellent dining. Around the corner, you'll find the La Jolla Beach and Tennis Club, an iconic 85+-year-old resort with San Diego's only private beach. Don't get too excited, memberships to this famous La Jolla spot are waitlisted!

9. La Jolla Mesa

Arguably some of the best views in La Jolla! sits on the southern part of Mt Soledad and many of the homes have spectacular views overlooking Pacific/Mission Beach, Point Loma, Downtown San Diego, the Coronado bridge, and, on a clear day, even Mexico. If that isn't something that you want in your forever home, I don't know what is. Like the Country Club, this side of the hill is fairly steep, so many of the homes take advantage of this view, depending of course, on which way the home sits.

10. La Jolla Farms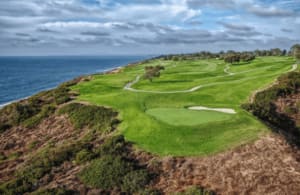 Torrey Pines Golf
La Jolla's most northern neighborhood is . It rests just north of La Jolla shores and just south of the famous Torrey Pines golf course where the Farmer's Insurance Open is held every year. Sleepy streets wind through this quiet little neighborhood with big homes. A great feature of this location is it's easy access to the 5 freeway, as most of La Jolla is somewhat landlocked.
What neighborhood do you like the best? If you are looking somewhere specific in La Jolla or San Diego, let us be your real estate resource! Feel free to contact Tiffany HERE!