You will find Windansea Beach Real Estate located in the Beach Barber Tract neighborhood in La Jolla. This is probably one of the most iconic La Jolla neighborhoods. The reason being, that it borders and surrounds one of the most beautiful beaches in the Country, Windansea Beach.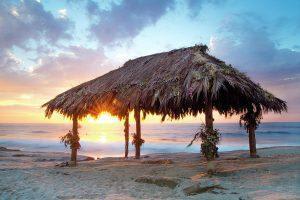 Windansea Beach Real Estate
Windandsea Beach is made up of the beautiful stretch of coastline that extends from Palomar Street in La Jolla to Marine Street. Windansea Real Estate is located in the "Beach Barber Tract" neighborhood of La Jolla and is probably one of the most iconic La Jolla Neighborhoods. What makes Windansea Beach and the real estate you will find here so iconic is the "Endless Summer" culture and vibe you feel when you are here.
Driving west towards the ocean down any of the streets in this neighborhood will lead you to a wide road filled with homes of all different types, lined with palm trees, and expansive ocean blues. When you catch this at "golden hour" when the sun is setting over the horizon, it is a truly magical sight to be seen.
Windansea Beach and Windansea Beach Real Estate can easily be spotted by the palm-covered shack, which serves as somewhat of a landmark, that was originally constructed in 1946 by Woody Ekstrom, Fred Kenyon, and Don Okey. Not long before, in 1920 the neighborhood of the Beach Barber Tract was developed and named after Phillip Barber, who was an heir to a steamship fortune. Many homes in this area are historic and have kept the original architecture of the home, others have been remodeled in an array of styles from cape cod, Spanish, English Tudor, Mediterranean and more!


Windansea Beach Real Estate Home Prices
Windansea Beach Real Estate starts around $950,000 for a single-family home and can go up to multi-million dollar oceanfront villas in the twenty million dollar range. There are not many condos or townhomes in specific La Jolla neighborhood and in Windansea real estate, however, a wonderful and affordable option in the Beach Barber Tract is Villa La Jolla, which is located right on La Jolla Blvd and runs parallel to the Windansea Beach shoreline.
Villa La Jolla offers amazing values for the price. Villa La Jolla is a large condo complex built in the 1970s, however, has been very well maintained. This premier Windansea Condo complex offers wonderful amenities such as a clubhouse and fitness center with free Wi-Fi, two pools, and spas, multiple barbecue areas, as well as multiple laundry facilities for your convenience as well as a lush landscape where you can literally cross La Jolla Blvd and be down at Windansea Beach for a very affordable price!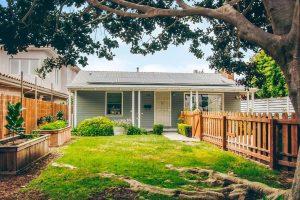 Windansea Beach Real Estate
Condos/Town Homes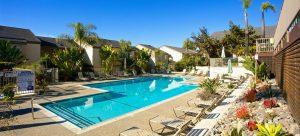 The units in Villa Jolla offer studios, one-bedroom/ one bathroom, two bedrooms/ one and one and a half bathrooms, and two bedrooms/two bathrooms. There are currently seven condos for sale in Villa La Jolla ranging on the lower end from $349,000 for a one-bedroom and $589,000 for a two-bedroom.

HOA's or Home Owner Association Dues are $372.00 a month and that includes common area maintenance, exterior landscaping, exterior building, pool, spa and clubhouse maintenance, limited insurance, trash pickup, water.
There are currently 14 attached homes for sale in the Beach Barber Tract neighborhood. The most expensive being located on Neptune Place. This condo boasts 3 beds, 4 baths, 2,596 square foot and listed at $4,888,000. This luxury condo was built in 1981 and offers expansive oceanfront views of Windansea Beach. There is only one other unit attached to this. You can literally walk right outside the door, and be standing on the sand. There are no HOA's here.
Detached Homes
There are currently sixteen detached homes for sale in the Windansea/Beach Barber Tract neighborhood. These homes range on the lower end from $959,900 for a two-bedroom, one bath, 773 square-foot single-family detached home built-in 1947. On the upper end, $14,250,000 with seven beds, 10 baths, three stories and $8,328 square feet situated on a $11,609 square-foot lot.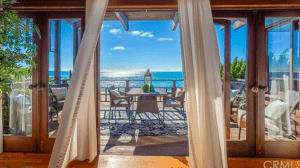 This home is located literally right on the water, the only thing separating you from the sand is your seawall and yard with sweeping, expansive, oceanfront views, truly one of those homes you just have to see.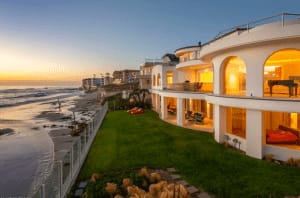 Although there are incredible luxury homes, the feel of this neighborhood is laid back and relaxed. The beautiful year-round weather where it never gets too cold in the winter or too hot in the summer, (and even if it does you can just take a quick walk and hop in the water, so no one is REALLY complaining here). This weather encourages a healthy, active, and ocean minded lifestyle.
Windansea Beach exudes the true Southern California Beach town vibe, and this one was put on the map in the surf and beach community, obviously because of the gorgeous geography and location, surf and the Windansea Surf Club, which is a National Organization. Windansea Beach is known for its world-class waves and surfers and for being "An International Surfing Club with a Local Impact "

"THE WINDANSEA SURF CLUB IS DEDICATED TO PROMOTING EXCELLENCE IN OUR OCEAN AND COMMUNITY, PRESERVING AND RESPECTING WINDANSEA'S PAST, PROTECTING THE OCEAN AND COASTAL ENVIRONMENTS, FOSTERING A POSITIVE IMAGE OF SURFERS LOCALLY AND GLOBALLY THROUGH CHARITY AND COMPETITION, AND SUPPORTING OUR YOUTH FOR A BRIGHTER FUTURE".

You could say this is a mission and energy that flows through the veins of the Windansea Beach community and one of the reasons why so many families want to buy Windansea Beach real estate and raise their kids here.

Another reason that makes Windansea Beach real estate so desirable is because of the close proximity to everything in La Jolla. Situated between Bird Rock and The Village, you are an easy walking, biking or short car ride distance to all of the fine dining and shops The Village has to offer. Also, being close to Bird Rock and Pacific Beach makes for an easy and stress-free egress if you are going South. Homes in the Beach Barber Tract are also extremely close to many of La Jolla schools, which are some of the top-rated in the state and Country such as Bird Rock Elementary, La Jolla Elementary, Muirlands Middle School, La Jolla high school and Bishops, your kids can walk or bike!

If you are looking to buy or sell Windansesa Beach Real Estate, please reach out to me!