Real Estate Giant, Zillow plans to open up their own proprietary marketplace or "Brokerage" if you will, with Zillow's expansion into Zillow Homes. Zillow founder and CEO Rich Barton says, "Real Estate Agents are not going away".
He also touches on the company's adjustment to its Zestimate tool, and their one-year-old selling and buying operation, Zillow Homes, where they buy homes for all cash and re-list them on their website. Zillow homes plan on being in 14 markets by the end of the year. They are already present in markets such as Arizona, Atlanta, Denver, Raleigh, Houston, and Riverside.
In an article by Patrick Kearns, Inman Staff Writer, he interviews Barton on how Zillow homes will affect the real estate market as we know it.
Many people in the industry express their concern, saying this will take business away from many agents and other parties involved in the transaction as they try to make Zillow a one-stop home buying shop.

Barton believes that will never be cut out of the transaction. Zillow to represent it on both sides of the transaction and has in the past said it pays a market rate commission – which it works out individually with each brokerage – but has declined to reveal the average commission percentage to Inman.
"[Consumers] don't know about all that administrative stuff that happens and slows them down and angers them, confuses them. It's expensive and they don't know why," Barton said during a conversation with Inman founder Brad Inman at Inman Connect in Las Vegas during Wednesday's general session. "They absolutely want and need an advisor. I am 100 percent certain that will continue."​​​​​​​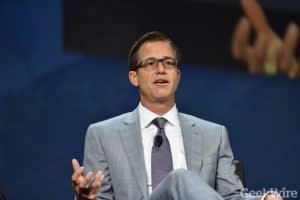 The company also has a pilot platform called "Tour it now" where the consumer gets a code sent to them and tours Zillow-owned houses. They say all of their implementations are to streamline the buying and selling process and are confident it will "reduce the friction of consumers and agents and lead to more transactions in the industry as a whole."
Inman relayed an anecdote about trying to view a property, only to realize halfway through the experience that the person he was talking to wasn't the listing agent.

"For a company that says it's consumer-friendly, that's kind of bullshit isn't it?" Inman asked.
Another aspect Zillow is dipping their toes into is the Mortgage side of the transaction, with the , Zillow wants the mortgage to be a part of that too. He compared it to Uber having a built-in system.

Barton says, "Returning to this job, I actually realized now that we are the incumbent," Barton said. "We are part of this industry and we, in fact, are facing our own set of disruption challenges, which has provoked us into a period of an incredible renaissance of creativity."

Barton claims that they are a "media company" and will continue to run as a "media company."

Source: