La Jolla Art and Wine Festival 2019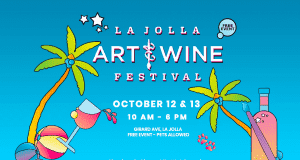 As summer is coming to an end, it is almost time for one of my favorite events in La Jolla, the La Jolla Art and Wine Festival! This year will mark its 11th year! It is a free event that is fun for all age groups and everyone in the family-even pets!

This year, the LJAWF will take place on October 12th and 13th from 10 AM to 6 PM on Girard Ave in The Village, where the Christmas Parade is held every year! The streets are closed and it is a huge neighborhood block party! It's great that the event is two days long, so if you can't make one day, you can go to the other!


Some of the attractions you will find here are wine tasting, a beer garden, gourmet food trucks, and food stands, live music, activities at the art center, art galleries and displays, jewelry, pet adoption, and a silent auction!


ART
The La Jolla Art and Wine Festival will feature over 150 artists across the U.S. and Mexico in mediums ranging from jewelry to woodwork, mixed media, sculpture, fine glass, ceramics, and photography.
BEVERAGES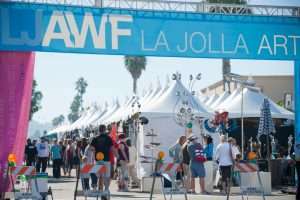 LJAWF also has some of the best craft beer and artisan wines featured in the beer and wine harden which showcases over 40 international wineries, local craft breweries, and distilleries. The way it works is you purchase tickets that will get you into the beer garden, (I believe it was 5 for $20) and from here you can walk around the different wine and beer stations and
OTHER ACTIVITIES
There is a family art center, where the little ones can create their own masterpieces, a two-day silent auction, 15 different pet adoption stations, live entertainment, and music!
MISSION
The La Jolla Art and Wine Festival is a non-profit organization, all donations are tax-deductible and proceeds will go to La Jolla's public schools, beautification of the community and promote La Jolla's local businesses. From the start of this event, 11 years ago, the La Jolla Art and Wine Festival has donated $850,000 to La Jolla's schools and directly have impacted over $4,000 children.