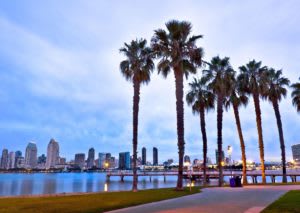 San Diego isn't just a city, it's a lifestyle.
What's not to like: miles of soft, sandy beaches, the best weather in the entire country, great educational opportunities from highly rated elementary schools to advanced college degrees, and endless sites and attractions to explore. It's a wonder that the population of San Diego isn't larger than it currently is.
The neighborhoods are as varied as the people who inhabit them. There's La Jolla, Ocean, Pacific Beach, and the East Village to name a few. Each one has its own vibe and friendly people who call it home. Or you can choose to live in a neighborhood near undeveloped canyons that are crisscrossed with biking and hiking trails.
Outdoor San Diego
The weather demands that you spend more time outside. In the summer temperatures stay in the upper 70s for the most part, and in the winter they stay in the mid to upper 60s. The long stretches of beaches, combined with the great weather, make San Diego an outdoor lover's dream come true. You can swim, surf, watch seals frolic, or just lay back and get some sun. From Coronado to the lagoons in La Jolla, there is plenty of natural beauty to see and enjoy.
There are more than 300 parks and activities to explore. Your family can stroll through the world-famous San Diego Zoo or live life on the edge of the roller coaster at Belmont Park. Hiking is popular in and around San Diego and there are plenty of golf courses that can be "hiked" also. San Diego boasts more than 90 courses, including Torrey Pines, home of a PGA tournament each year.
Architectural Home Styles
What style of architecture appeals to you? No matter what it is, you can find it in San Diego. Closer to downtown you can find historic, ornate Victorian homes. The rooms are smaller and sometimes quirky-shaped, but with a sense of elegance of bygone times.
Then there are craftsman homes. With pillared front porches and tons of fancy woodwork both inside and out, these homes are very sought after. Another popular style that is found in San Diego neighborhoods is the Spanish style. These homes have tiled roofs, textured stucco walls, and rounded arches and doorways. This Spanish style is so popular that even some of today's new homes are being constructed to mimic this style.
Then there is my favorite, the mid-century modern. Starting in the late '40s and through the '50s, these homes were built to have clean, simple lines. In areas like La Jolla and Point Loma is where this style of home seems to be concentrated. Indoor Living.
Every once in a while it does rain in San Diego. On these days there is still plenty of activities for you to enjoy. There are a number of great museums to visit: the Museum of Contemporary Art, the Air and Space Museum, and the Model Railroad Museum. You can even go skydiving! How can you skydive on a rainy day? At the iFLY Indoor Skydiving.
But you don't always have to leave the house. With a home theater projector and a theater room, you can invite some friends over, grab a comfortable seat, and watch streaming movies or sporting events on the big screen. It never rains for long and once the skies clear you can take that projector and screen out to the deck or patio and you will be able to get back outdoors.
What's not to like about San Diego living? Well sometimes the traffic gets backed up which is a headache, but it's never like our LA neighbors to the north have to battle. There's no smog, you can go international and be in Mexico in half an hour, and you can have a life at the beach or in the canyons in just minutes. San Diego living is almost perfect!